Rubber Machinery World magazine Interview
Jan 20, 2016
Rubber Machinery World magazine has published an exhaustive interview with H.E.W director Mr. Tom C.A., on TSR processing. Click here to read the full article. Scroll down to read some excerpts from the interview.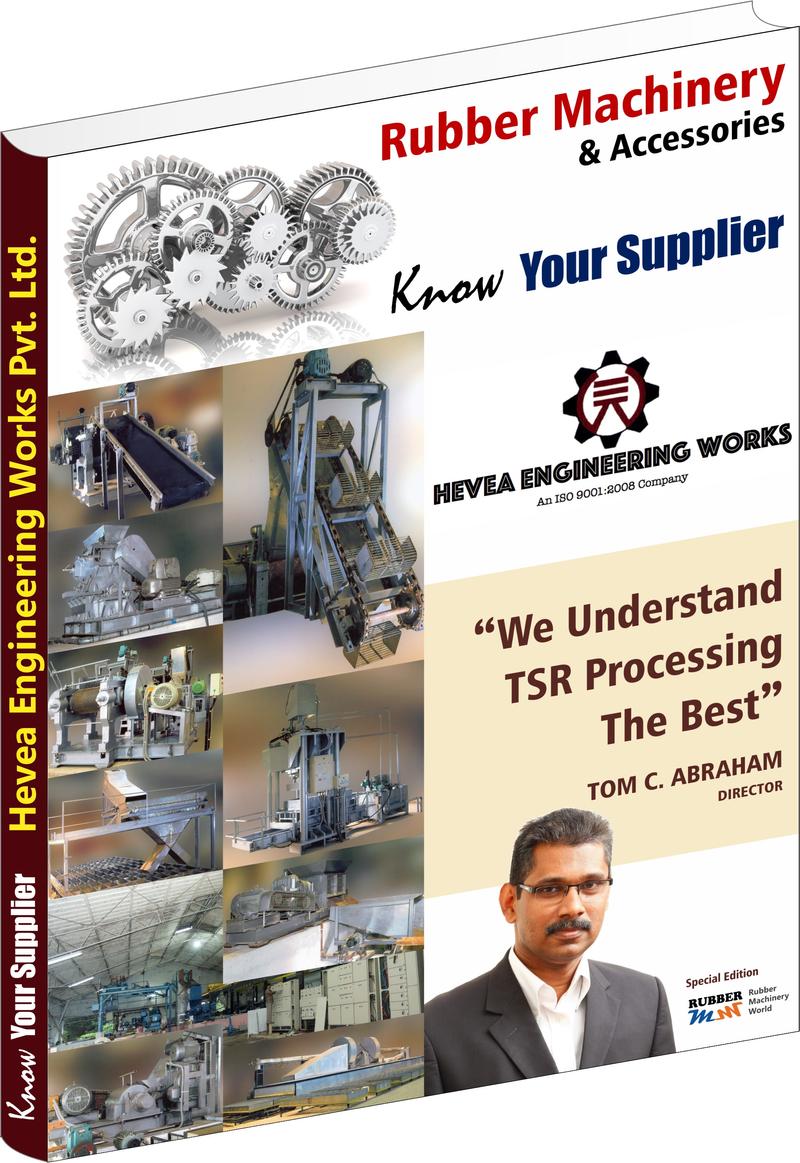 Q. What are the major strengths of Hevea Engineering Works? How do you add value to TSR equipment buyers?
We have established a strong base in TSR processing machinery in last 20 yrs. We understand the complete TSR value chain – right from cup rubber to final usage. This gives us the unique perspective to recommend the right solution to our customers. The 'solution' can vary from as basic (though important) as consulting on plant layout and design to supply of customized machinery for TSR processing. For example, you would benefit from different designs for a DRC of 45% as compared to DRC of 80%. Again machinery varies for latex processing, field coagulum, or RSS reprocessing. We understand TSR best. We improve our designs regularly based on our customers' feedback. Additionally, at our own production facility, we test our products.
This means when customers buy from us, they can be assured of machinery that is improved in design, are user-friendly and has low maintenance.
Competitive pricing is another big strength with us because we control the design and manufacturing in-house.
Q. I see that you have a vast range of equipment for TSR industry. So, what products and services can a prospective buyer expect when they come to you?
TSR Processing machinery selection can be complex for a new entrant while established processors understand the nuances well. This is because depending on the nature of the raw material (for example latex processing, field coagulum, RSS reprocessing, etc) the machinery design, usage and functionality vary. At HEW, we understand the TSR value chain comprehensively. This means when a prospective buyer comes to us he could discuss his requirement of main TSR Processing Machinery like Slab Cutter, Pre-Breaker, Hammer Mill, Creper, Shredder, Dryer, Hydraulic Press together with the supporting machinery Conveyor, Grab Bucket, Crumb Filling Station, Bucket Elevator, Scrubber, Metal detector, etc. For new projects, we recommend that buyer involves us from start like site selection/planning, layout design, machinery selection and a detailed cost estimate. We also help in providing electrical data, water requirements, Effluent Treatment etc. This is highly advantageous for the customers, as it saves a lot of initial time and money, and also greatly reduces the project execution time.
Lately we have diversified into rubber moulding machinery like intermix, kneader and moulding presses. An existing user can discuss with us his reconditioning or service requirements in these ranges of machinery.
Summarizing, our endeavor is to provide quality machinery at a competitive price and continue building our list of satisfied customers in India and abroad.
Q. How do you differentiate yourself as well as compete on price of your products with other brands in the market and of course with the cheaper SE Asian machines?
Hevea Engineering Works has been designing and manufacturing TSR processing machinery since 1996. We did our first export to Srilanka and In 2007, we also set up the first TSR processing factory in North-East India for our customer. Since then, we have built on our strengths of delivering high quality product at competitive pricing, leveraging in-house design and engineering capabilities to customize. Our expertise in TSR processing machinery is built both from our acquired knowledge of the industry and our personal experiences. We have designed our Dryer to minimize the heat loss, yielding greatly reduced fuel consumption. Another example – our crepers, pre-breakers etc have been redesigned to greatly reduce maintenance schedules and costs. The increased machinery uptime influences the efficiency significantly. Our products are built to suit the raw materials available in each region. In India, the manufacturing capacity of a typical TSR plant is 40-60 tons per day. Our machines easily match this capacity. Because of these considerations, and also due to the relatively low manufacturing costs in India, our prices are very competitive. Further, in addition to our competitive prices, we are very strong on pre-sales consulting, customized machinery design, operator training and post-sales support.
So, if you are looking for highest Return-On-Investment with the quickest payback period, our product range is easily the right solution for you.
---
Click here to read the full article on Rubber Machinery World website.